Office Properties for Lease in Anchorage and Eagle River, AK
Discover the Best Office Properties for Lease in Anchorage, Eagle River, and Kenai, AK, with Carr & Family Properties
Welcome to Carr & Family Properties, your premier destination for exceptional office spaces for lease in Anchorage, Eagle River, and Kenai, AK.
We pride ourselves on offering a wide range of commercial real estate office space tailored to meet the diverse needs of businesses, from startups to established enterprises. With our extensive portfolio of properties built from the 1970s to 2014, we guarantee that you will find the perfect office space to promote your brand, enhance productivity, and thrive in the thriving Alaskan market.
Unparalleled Office Spaces Designed for Success
At Carr & Family Properties, we understand that your office space plays a crucial role in the success of your business. That's why all our office buildings are thoughtfully designed and equipped with the amenities necessary to support your operations. With exterior monuments or building signage, we ensure maximum visibility for your brand, attracting potential clients and partners.
Our commitment to accessibility is reflected in our fully ADA-compliant buildings, featuring elevator access to all floors. We prioritize the safety of your employees and assets by integrating state-of-the-art fire suppression systems in all our properties.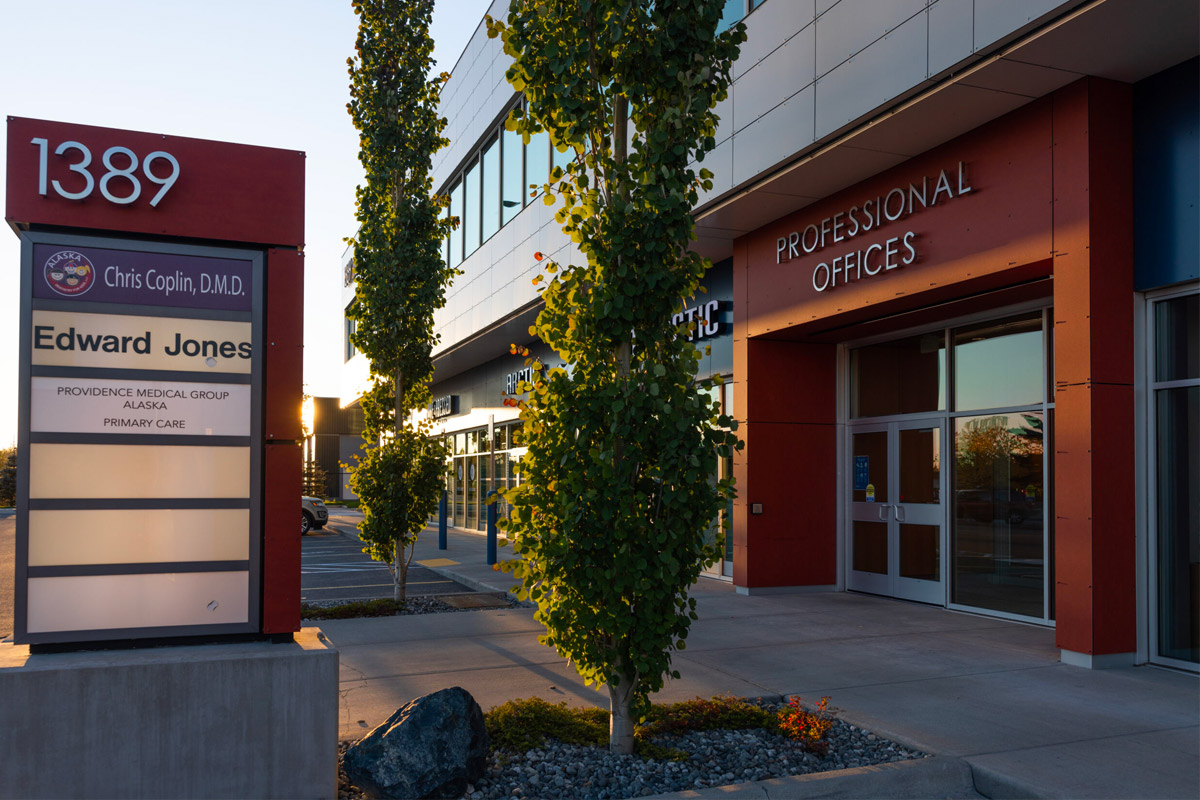 Prime Locations to Amplify Your Business Reach
Our office buildings are near major highways, granting easy access and excellent visibility in the bustling Alaskan landscape. Anchorage and Eagle River serve as vibrant commercial hubs, and our properties place you right in the heart of these dynamic communities.
Whether you're seeking a centralized location for client meetings or a convenient spot for your employees, our properties provide the ideal venue to achieve your business goals.
Unmatched Selection of Office Spaces
With Carr & Family Properties, you gain access to an unmatched selection of office spaces, ensuring that we can meet your specific requirements. From compact and budget-friendly units to spacious and luxurious settings, we have the perfect office space to accommodate businesses of all sizes.
Our portfolio includes properties that cater to a wide range of industries, including medical offices allowing you to find an environment that aligns with your unique business needs.
1. 1389 Huffman Park Drive, Anchorage, AK
Our building at 1389 Huffman Park Drive is fully leased, demonstrating our office spaces' high demand and desirability. This prime location has attracted thriving businesses and medical offices capitalizing on its excellent amenities, strategic positioning, and professional ambiance. But don't let that stop you; contact us, and we will let you know when space becomes available or help you find the perfect place for your business.
2. 6401 A Street, Anchorage, AK
Are you in search of a remarkable office building for lease? Look at 6401 A Street, a two-story office building near C Street and West 64th Avenue in Midtown Anchorage. It offers a prime opportunity for businesses seeking a main address in Anchorage. Its modern design and convenient location make it an excellent choice for those looking to elevate their professional presence.
3. 6411 A Street, Anchorage, AK
Another exceptional property in our portfolio is 6411 A Street, a three-story office building near C Street and West 64th Avenue in Midtown Anchorage.
Currently available for lease, this building presents a compelling option for businesses aiming to establish themselves in Anchorage. Featuring contemporary architecture and a range of amenities, 6411 A Street is the perfect setting to create a lasting impression on clients and stakeholders.
If you're considering leasing office space in Eagle River, look no further than Eagle Financial Center. This modern complex provides the ideal backdrop for your business operations, with various units available for lease. The center's strategic location and cutting-edge facilities ensure that your business will thrive in this dynamic community.
Our Kenai Shopping Center offers an unbeatable opportunity for those seeking office spaces in Kenai. It is located on the Kenai Spur Highway in the heart of Kenai, Alaska. With a unit available for lease, this center combines convenience and functionality, allowing your business to flourish in this vibrant Alaskan city.
Experience Unrivaled Support and Service
At Carr & Family Properties, we believe in building lasting partnerships with our tenants. We provide exceptional support and service throughout your leasing journey, ensuring your seamless and rewarding experience with us. Our dedicated team is always available to address your inquiries, provide assistance, and help you make the most of your retail space.
Contact Us Today
Discover the limitless possibilities Anchorage, Alaska, offers for your business. Take the first step towards securing a prime office space by contacting Carr & Family Properties today.
Our knowledgeable team is ready to guide you through the leasing process, discuss available options, and tailor a solution that perfectly matches your business requirements. Call (907) 646-3618 today to take the first step toward leasing a new office space in Anchorage.